Shooting is wrapped, the pizza is gone,
the luxury cars have sped off the lot;
just Art, Grip, Electric loading the truck,
the Cube Van, the Stake Bed, the Pickup;
the time has come for me to indulge
in what's my favorite rite:
THE FINAL WALK-THROUGH.







Once factories, they're spaces now,
'Available for Filming.'
Rust and dust and distressed looks,
to spice up grungy rock bands.
Machines replaced by scraps of sets,
all down-and-dirty-cheap:
the nightclubs, the prisons, the murder scenes,
the hide-aways for creatures and psychos.




Where banded cables snaked through the dirt;
where crew stood in puddles of fog juice;
where hours before HMIs glared,
it's no one but me now, retracing the day
and looking for all that's missing:
those C-Stands and Floppies,
those Stingers and Mafers,
those Cube-Taps and Doubles,
which fell off the cart.




Breakers are thrown, the movie lights off,
just sodium-vapor outside.
It's quiet now.
Just me in the dark,
indulging in what is my favorite rite:
THE FINAL WALK-THROUGH.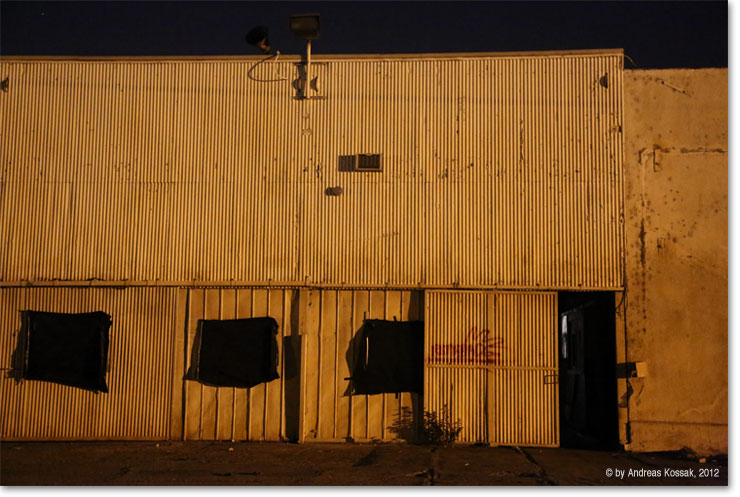 ______________________________________

Tech Specs for the Curious:
Camera: Canon EOS 5D Mark III
Lens: Canon 24-105mm f/4L USM AF lens
Exposure: Automatic, 1/6 to1/8 sec , F4, from 25,600 ISO up to 102,400 ISO, all hand-held with Image Stabilization